Linkin Park's back in action. Grab some popcorn and get your couch ready, because it's promo time! Linkin Park and Kiiara will be performing 'Heavy' on The Late Late Show With James Corden on February 27!
 
As customary of any artist with a new album, they have to start promoting the new music. Usually this means making appearances on TV and playing some random shows in some big markets. Promo season is just starting for Linkin Park, and this performance will be their first of the cycle.
 
This show also marks the band's first full-band performance since November 2015 - that's a bit over fifteen months without a full show. We saw Chester and Joe onstage in China in the summer of 2016 and Mike, Chester, Brad, and Kiiara performing stripped down versions of a few songs just over a week ago, but we haven't seen all six members onstage together since the Relief Live! show in November 2015. While this TV appearance won't be a full show, it's also worth noting that the band's last FULL show was at Blizzcon, a week before Relief! Live.
 
The Relief! Live show was the first time the band opened a show with 'From The Inside' by itself. In 2009, the band opened their show in Shanghai, China with 'Session' and 'From The Inside,' as they had to drop 'Given Up' due to China's strict censorship rules.
Something worth nothing about this show is that - as we mentioned before - Kiiara will be performing with the band! You've already heard her in 'Heavy,' and if you watched the band's Facebook livestream from earlier this month, you'll know she has a pretty strong live voice. She sang both 'Heavy' and an excellent piano version of 'Burn It Down' with Mike and Chester - we've yet to see her sing with the entire band in play, but we're sure it'll be great. She's been in rehearsals with the band for the last week or so in preparation for promo performances (we spotted her on Joe's Instagram videos from rehearsal), so it won't be too surprising if we see her and the band perform together a few more times together.
 
This stripped down version of 'Burn It Down' is one of the, if not the best, performances of the song ever. Chester's vocals are more in shape than they've been in awhile (thanks to his vocal coach), Kiiara adds a special something to the track with her voice, and Mike singing his part add up to a truly awesome and beautiful version of the song.
Something we're all hoping for is Linkin Park in Carpool Karaoke. We're sure you've heard of it, but if you haven't, here's the gist of it: James Corden gets in a car and picks up an artist while he drives to the set and sings songs with them. There's been a wide variety of guests: everyone from Sia, Adele, and Lady Gaga to Chris Martin from Coldplay and Red Hot Chili Peppers have done Carpool Karaoke with Corden. We're not sure if LP will be doing one or not, but fingers crossed that they do! There are three parts of the show we can look forward to as far as the band appearing on the show: the beginning, when Corden talks to the guests, during the show, if Carpool Karaoke happens, and for the band's actual performance.
EDIT 2/27: Phoenix posted a picture to his Instagram page of Brad practicing backstage. The paper he's reading off of says 'Invisible,' a song title on One More Light. Is there a surprise coming tonight?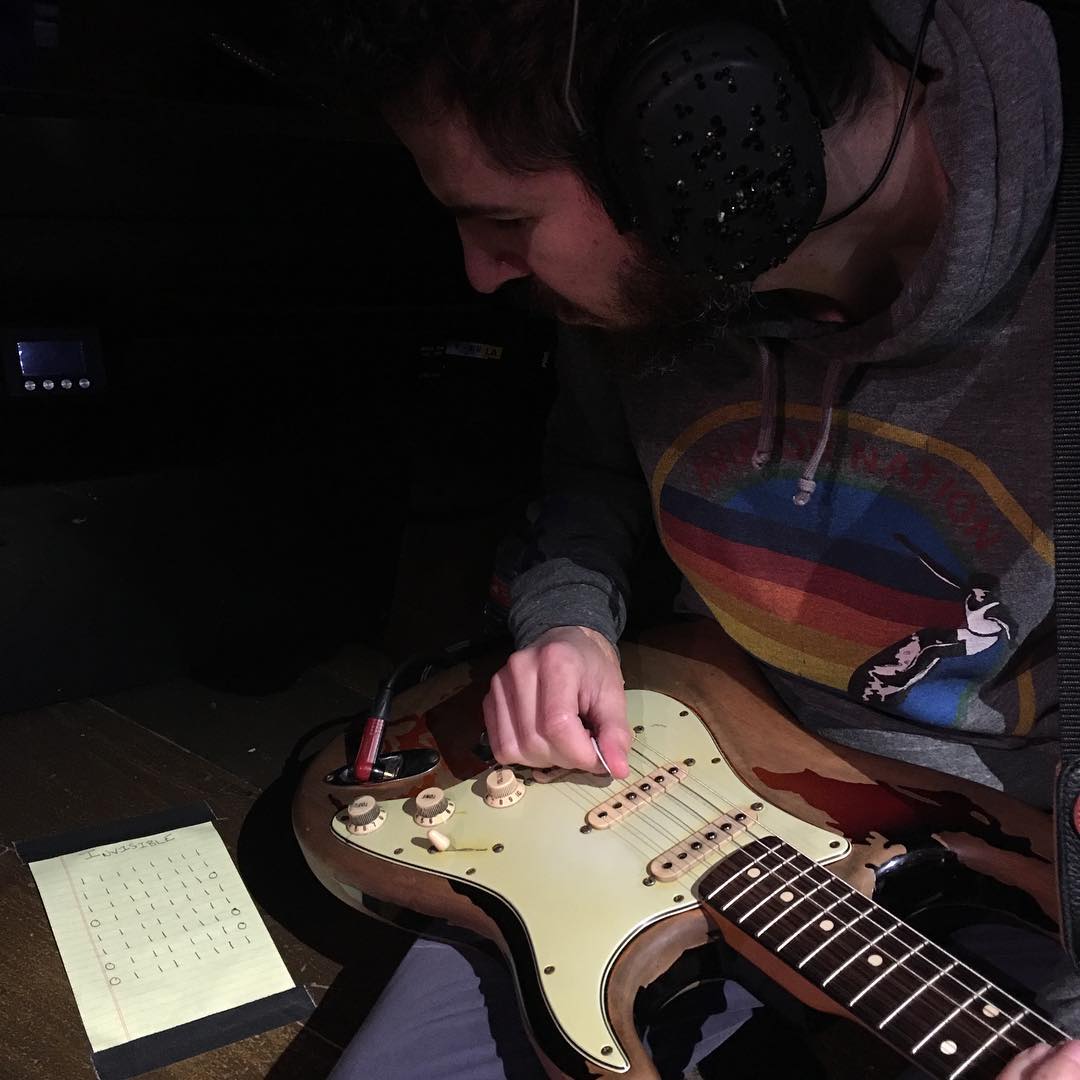 Who's excited to see the band back onstage? This will likely be the first of several promo performances going on, as well. We're even thinking that the band has some secret club performances coming up... It seems most likely that Los Angeles and New York (amongst others) may be on the market for that. Keep your eyes peeled. The Late Late Show With James Corden airs on CBS at 12:37am EST (check your timezone here), so make sure you set your alarms and don't miss it! Follow us on Twitter and like our Facebook page for any updates and news from the band.
 
Click here to check out the rest of the band's 2017 tour schedule.