At this year's NAMM show (National Association of Music Merchants), Mike sat down with top mixing engineer Dave Pensado and producer Herb Trawick in their weekly show, Pensado's Place. A full video of the episode can be seen below. Mike discusses a wide variety of topics, including the new approach to Linkin Park's upcoming studio album.
At 47:50 in the video, you'll see Dave and Herb say that coming up on Pensado's Place will be Mike Elizondo.   
Mike responded with,
"Make sure you ask Mike Elizondo.... Mike Elizondo at one point for a very short period of time was the bass player for Linkin Park. Ask him about that story. Phoenix left us for a short time and Elizondo at that time was our top candidate for bass player. We asked him to be "on it"...we were doing it, and he said at a certain point... 'Man I don't know what to do. On one hand, you guys are doing so well and I love the music and on the other hand, Dre wants me to work on this new album with him and he's offering me points on the new record. It's this white kid from Detroit....Eminem.'"
Mike told him to go work with Eminem and said Elizondo had "great options" in front of him....work with Dre and Eminem or be the bass player in Linkin Park.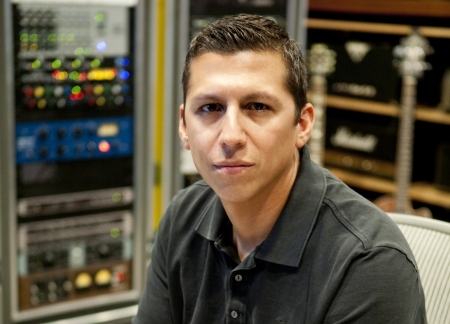 It sounds like when Mike said "on it", he was referring to Elizondo recording bass for Hybrid Theory (album). If this is true, this might be why there are three different bass players that ended up recording bass on the album (more information below). It doesn't sound like Elizondo ended up recording anything with the band...if he did, it has remained unreleased or we simply don't know about it, but it does sound like the band made the decision to pick him.  
You can see a full list of Elizondo's works on his
Wikipedia page
. He ended up recording bass for many popular songs, and co-wrote The Real Slim Shady. Elizondo has gone on to work with bands like Avenged Sevenfold, Maroon 5, Switchfoot and more.  
Linkin Park, as you probably know, went through quite a few bass players for a short period of time in 1999 and 2000 as Phoenix toured with The Snax. Phoenix was in for Xero and Hybrid Theory (band), but had to leave for a while to finish his touring commitments with The Snax, who Mark Fiore (LP's videographer) was in as well. Kyle Christener recorded the bass on the Hybrid Theory EP. Scott Koziol toured with the band in 1999 and 2000 as you can see in some of the older 2000 videos of Linkin Park performing and is in the music video for One Step Closer. Ian Hornbeck recorded bass on Papercut, A Place For My Head, and Forgotten, while Brad recorded bass for the rest of the songs on the album. Even though Phoenix didn't record bass for Hybrid Theory (album), he still has a few writing credits on it.  
Just another interesting fact about the band! Thanks Geki for the heads up!