Disclaimer: This interview may not be reproduced in part or in entirety without the written consent of LPLive.net.
Intro by Hahninator (Mark): Michael Snatkin and I first met on July 28, 2009 in Zürich, Switzerland at the post show LPLive Meet & Greet. He ended up spending the night at the local train station with AndOne (Jonas) and I after the show and hung out with us again and did the same thing at the Stuttgart, Germany show two days later. When we talked, I found that I had stumbled on a huge Linkin Park fan that has been very devoted to them over the years. Amanda brought him on the LPLive staff in late 2009 to help with additions to LPLive 4.0 and his role with us has grown ever since. Now I would easily consider him one of the most vital members of our team. Behind the scenes, Mike is a very crucial member to us and is always available to help us get something done. We caught up with him recently for the next episode in our LPLive Staff Interviews. Read below to find out what we learned!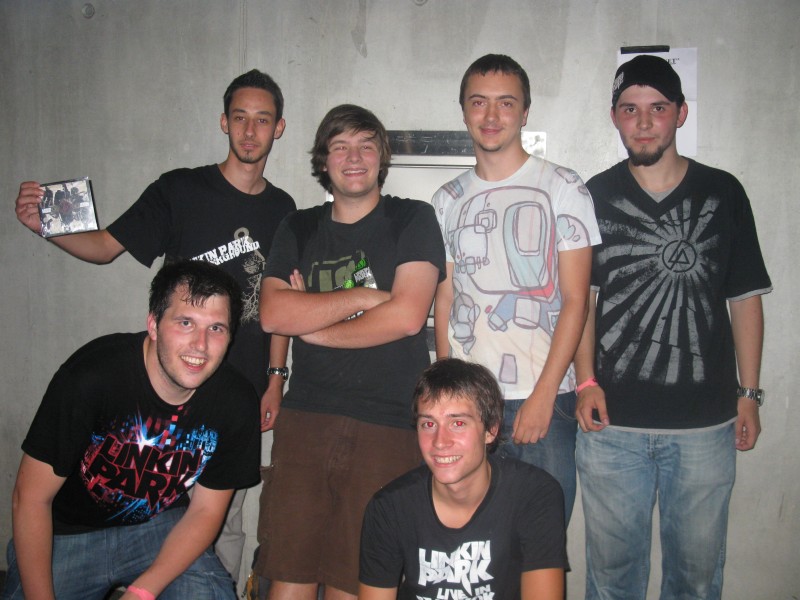 > Q: For those who might not know you as well, tell us a little bit about yourself and your role/position here at LPLive.
My name is Mike (SpikeMinoda) from Germany and Im 21 years old. Im a staff member here on LPL since mid November 2009. Around this time I started to help to finish LPL 4.0 and updating the site with important news.
> Q: Youve been instrumental to the creation of 4.0. Can you tell us about your job in the new design and the processes youve gone through?
When I became a staff member back in November 2009, I started first to collect some information for the new version of LPL and after this was done, I entered every single show and setlist into a database to transfer them from 2.0 into 4.0. Because the new LPL 4.0 is based on a huge database, once this was done I was checking with Jonas on all show pages like 10 times to fix the most mistakes.
> Q: You've been on the staff for only a year, but youve made a big impact already, more-so than some that have been here for longer than you. What are your personal goals that you wish to accomplish in your new role?
At first I'd like to thank Amanda (SouthernGirlAM) and the rest of the LPL team for giving me the chance to help the site. I loved this site for a long time and so its a huge honor for me to work for this site now as a part of the site. I hope to help this site a lot with all my hard work I put into it during my free time.
> Q: So, LPL aside, how long have you followed LP? Tell us a bit about your history as a fan.
I've followed LPL since 2007 I think and Im really into LPL since June 2009. Im huge LP fan since the beginning of 2004, I still remember it was on a class trip to southern Germany and one of my friends had Meteora with him and I was listening to the album over and over again and fell in love with LP. He also had some old Hybrid Theory songs and when I was listening to In The End, I was like oh thats the band, cause I heard this song some time ago already, but never really cared about the band, lol. Which was a big mistake. So now Im a huge LP fan since then and have been to 10 concerts so far and looking forward for the next shows in summer 2011.
> Q: What is your favorite LP album? Favorite LP song?
Wow, thats a hard question. My favorite Linkin Park album is I think Meteora, because the songs on the record are just perfect all together and I love every song from the record. Im not saying the other records are not good. Hybrid Theory has also powerful songs and minimum 3 fan favorites in it: A Place For My Head, Papercut and With You. A Thousand Suns is a very good record as well and I love it so much as well, the new songs are just awesome live! I had a lot of fun with them on the 2010 European Tour. My favourite LP song is From The Inside, cause the song has so much energy in it and its just amazing when they play it live on stage. But overall I love every song except Shadow Of The Day and Robot Boy, cause in my eyes they dont fit well to LP, lol.
> Q: What's your favorite non-LP album and/or band?
I personally love Death To Analog by Julien-K so much, the record has no weak song on it and I would say its one of the best records here in Europe of the year 2010. There are so many good records and its hard to name all of them! But more records I'd like to name. Its an old one already, but still one of the best records I think, its Chocolate Starfish And The Hot Dog Flavored Water of Limp Bizkit. The first half of the record is just awesome, if I had to describe it.
My favorite bands beside LP are: Julien-K and the other LP related acts, Limp Bizkit, M.A.N, Fall Out Boy, The Delta Fiasco, Owl City, to name only a few of the bands. Otherwise the list would be too long.
> Q: What is your favorite LP live experience(s) to date and what sets it (them) apart?
My favorite LP live experience was this year in Dortmund, cause Mike pointed at me during Papercut and many other songs, cause of my LPL shirt. During Bleed It Out he even dedicated to me A Place For My Head verse 1 over the bridge of Bleed It Out. This was so great. I cant tell it on words, but lets call it the best moment in my life so far! Mike is just the best.
> Q: What is your favorite non-LP live experience(s) to date?
I've been to so many non LP concerts already, but I would say the best one was the M.A.N. concert at Rothenburg, Germany. I was at this concert with BlackChester and we had a lot of fun, been in the first row for the whole time. At this show 3 support bands were playing, 2 of them were nice and one sucked a little. When M.A.N went on stage the whole club was getting crazy and it was a lot of fun to watch them playing on stage and performing their best songs live. After the show Ive been at the after show party and it was a lot of fun to party with the stars and having fun with them.
> Q: Do you have a girlfriend? Is she a big Linkin Park fan?
Yes, I have a girlfriend since the 25th July 2010, I met her in Switzerland when I was visiting my friend Jacrid (Stefano) who is also a huge LP fan. My girlfriend is a huge fan of Linkin Park and has been to 3 concerts already. She is a fan since Somewhere I Belong was released as a single back in 2003. So its nice that I can even talk with my girlfriend about my favourite music band!
> Q: If Linkin Park could bring back ONE song they currently don't play live to their 2011 setlist when they play for you.... which song would it be? And why?
I would love to see Figure.09 back in the set before From The Inside and again with the transition from Projekt Revolution 2004, cause this was the best transition Linkin Park ever played live and I love it so much, they really need to bring it back live next year. The worst thing about this is, I was in the US back in 2004 when Linkin Park were on tour with Projekt Revolution. I heard about the Wantagh show like 2 days after the show and I was at Long Island already for 4 days so this was pretty bad. When I saw the setlist later in 2007 here at LPL I was really pissed, cause they played the best set ever during the Projekt Revolution tour 2004!
> Q: Since there are a growing number of fans out there that do... do you collect all of the DSPs that the band releases on http://downloads.linkinpark.com/?
Yes, I collect all the shows. Up to now I have every single DSP which was released to date.
> Q: Is there an inspiration or particular reason you like to collect all of the shows?
The reason why I collect them is: every show is different even if they have the same set there are still some small things that make every show special. I realized it back in 2009 when I was at 3 shows and all had the same set, but there were still small differents. Like Zürich had a longer drum solo intro for Bleed It Out, Stuttgart had a different intro to Points Of Authority to name only a few things that make the shows special.
> Q: Is there anything else youd like to tell about yourself or say to the LPL members?
I would like to thank every single member of LPL for visiting the site and bringing us a lot of news and for being a part of the site. Its so great to hear all your feedback on every single news that is posted in the forum, not only in the Newswire. Keep doing what you are doing, I really appreciate all the love you show to LPL and hope you love this interview and also the new version of the site. You really know who you are.