Disclaimer: This interview may not be reproduced in part or in entirety without the written consent of LPLive.net.
Intro by Hahninator (Mark): On December 31, 2010, the last day of 2010, I was approached by a good friend of five years named Jay OByrne. Jay and I went way back, like back to the days of ChesterSings.net (who all remembers THAT site, eh?). We used to talk every day and be all into LP this, LP that and basically just talk about the band all the time. I can distinctly remember staying up to early hours in the morning on school nights (he has a four hour time difference from me) chatting away with him about music. For no specific reason, we sort of went our separate ways in recent years as I went off to college and he pursued his hobbies. We're both 19 years old but live two totally different lives. I caught up with him recently when I found out that he was going on tour with Does It Offend You, Yeah? who are opening the LP North American Tour in 2011. He's on board for the first thirteen shows of the tour, so read below for the entire scoop on Jay and what he's up to!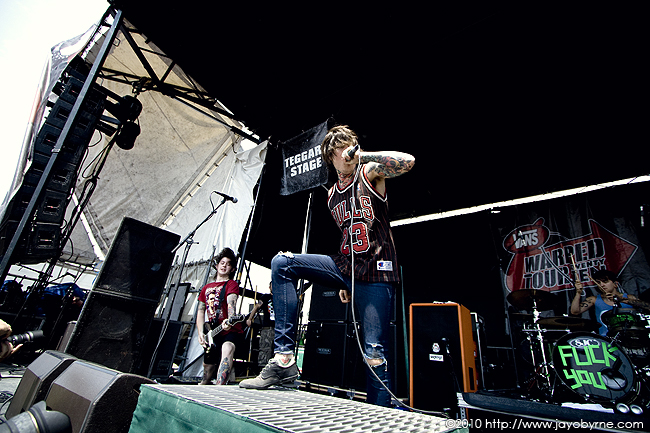 > Q: So Jay for those of us who don't know you very well, tell us a little about yourself....the awesome Jay OByrne. Where did the OByrne originate from? And where do you call home now? Same place?
I was born and raised in Liverpool, England and moved around a lot growing up. I moved to Canada about nine years ago, lived in Vancouver, BC for three years, then Toronto, ON for 2 years and now I currently live in Winnipeg, MB. It's currently -10F (-21C) here right now with three feet of snow, so it gets pretty cold in the winters.
I am currently a full time photographer and spend 8-10 months of the year on the road documenting bands on tour.
> Q: How old are you?
I'm 19, although in the last month I've been called 22, 24, and 27. ...I guess I look older than I am?
> Q: What kinds of hobbies do you enjoy?
I think my biggest thing would be photography & traveling. I was raised traveling around England, and some parts of Europe so I was very fortunate to see the world at a young age. It kind of stuck with me I guess, and when I got the chance to go on tour for the first time I jumped at the opportunity.
Other than those I would say cooking, which is really random. I spend most of my year eating catering at shows and never really having a "home-cooked meal" so when I'm home I make sure to cook as much as I can.
> Q: Photography, right. Yeah, after reading up on your website (http://jayobyrne.com/), I see that you're covering THIRTEEN shows on the LP's North American Tour for "A Thousand Suns". You're shooting the openers that hail from England, "Does It Offend You, Yeah?".... Uhh.....fuckin' excited or what, man?
I'm beyond stoked. It still hasn't really hit me yet that I am going on this tour. Linkin Park are arguably one of the biggest rock bands in the world and to be able to have the chance to tag along on this tour is amazing. I've been telling people it will probably hit me the moment I step out on stage and take a photo of 15,000 + people.
I am documenting for Does It Offend You, Yeah? so I'm really stoked to work with those guys.
I'm going to a few places I've actually never been to as well including Sunrise, FL and Kansas City, MO so I'm excited for that.
> Q: How in the world did you land the opportunity to do THAT?
I was put in contact with their manager after a recent tour I did. We started talking about a few ideas for the band and everything just went from there. I feel unbelievably fortunate to be given the chance to document them and they're one of the raddest sounding bands I've discovered this year.
> Q: Does It Offend You, Yeah?....are you a big fan of their work? Got a favorite song for people to check out that aren't so familiar with them (like myself)?
I've been into them since around August. I listened to them a lot this summer on Warped Tour and became a fan pretty fast. For new people checking them out, I would recommend "Dawn of the Dead". It was the song that got me hooked and from there the entire album is really appealing. A lot of people might also recognize them from the DVD commercial of the "A-Team" movie… they're actually the background song.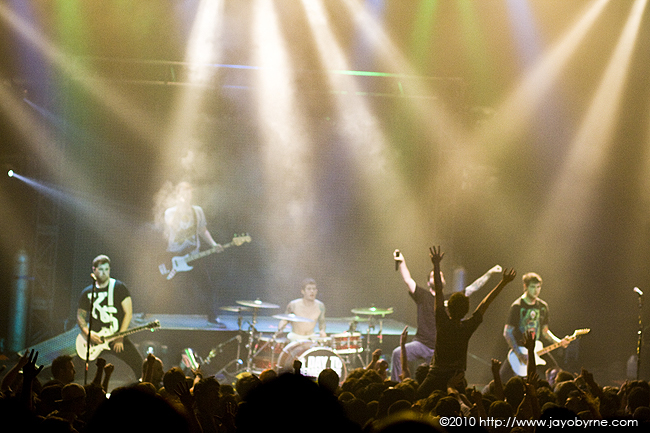 > Q: Tell us about your previous touring history. What tours have you been out on? Who all have you shot live?
I have done a few smaller acoustic Canadian Tours with some really amazing friends. In the US I have done Warped Tour in the summers, most recently for a band called "Polar Bear Club" and I just finished a US tour with a band from Phoenix, AZ called This Century, who opened for Hey Monday and Cartel.
The list of bands I have shot live seems endless at times. I've done everything from The Fall of Troy, to Madina Lake, Saosin, Alexisonfire, to Blink-182 for Alternative Press Magazine. I have been shooting shows for about 4 years so I've definitely seen and shot some amazing shows.
I think it's safe to say that this tour is not only going to be the biggest tour I've done but also some of the biggest shows I've ever shot at.
> Q: Right, so I see that you're starting to get on the road a bit more with bands! Are you looking to make this your main profession?
I would say so, yeah. Photography is what I want to do with my life and traveling is a bonus that makes it so much better. Being able to meet amazing people every night all over the world is a job people dream of and I'm fortunate enough to be able to do it. In the last year I've been to almost every US state and at 19 years old I find it amazing that I've been given the chance to do that.
As I said, I feel very fortunate.
> Q: With that said, do you have any crazy road stories for us from your previous tours?
I've had a few things happen over the years.
On a tour I recently did there was eight of us in the van, and after driving for about 14 hours straight we decided to have a sing-along to the country band "Lady Antebellum". It was beyond ridiculous.
Other than that, I would say being chased in Toronto, ON by a homeless man for giving him foreign bills (American money) was pretty great also. Its little things like those that keep touring fun and memorable.
> Q: What kind of camera(s) do you use? Do you use more than one?
Right now I'm using a Canon 7D with a quite a few lenses. Every show and every venue is different so it's hard to tell what to use until you get there and see the lighting, etc. When I'm on tour I use my Canon 7D mainly and also always have an older Canon Xti with me, just as a backup and for safety.
This summer on the Vans Warped Tour it was so humid and warm one day that my camera actually broke due to the heat! Since then I've always carried two on me.
> Q: What program(s) do you use to edit the pictures you shoot? Say you shot a band live; about how long do you spend editing those pics from that night?
Like most people I use Adobe Photoshop.
After shooting a band I usually run through all the photos really quickly that night and find a few that I really like and pay close attention to those. Then I go back a few days later with fresh eyes and take a second look.
There have been times where I've taken photos and then six months later discovered a photo from that set that I now like. Your style and opinion on what's good constantly changes so it's always good to go back and take another look.
> Q: Do you shoot more than just live bands? Like do you do personal photography for people?
I focus mainly on touring and live bands nowadays but I also do portrait work when asked. I also do a lot of band promo photos for press work, etc. It keeps me busy and gives me something to do when I'm not on the road.
I used to do a lot more portraits for people, but with me spending my summers constantly traveling, and the winters being way too cold to shoot in, it has taken a back seat lately.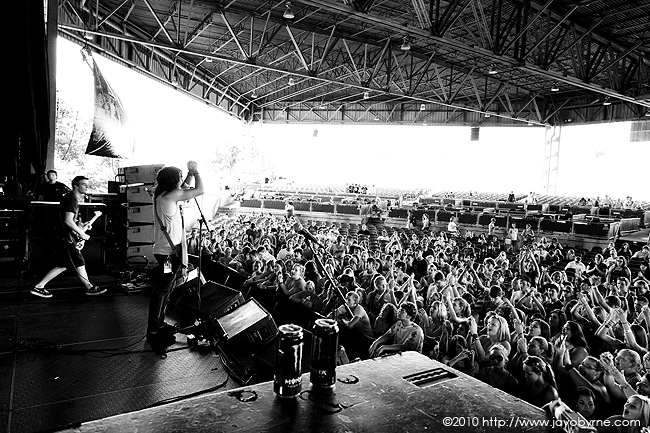 > Q: I see you film bands as well (
). Do you like filming or taking pictures better?
I would say I'm still about photo. Video blogging and work is becoming a major thing in the music world right now so it's a good thing to know… it just takes a lot more work in the editing hours. I recently did a 2 minute video and it took just under 14 hours to edit, save, and upload. It's a lot more time consuming for sure.
> Q: What all do you do for bands in terms of video? Tour blogs?
It changes from tour to tour. A lot of bands are doing video tour blogs nowadays as a way to connect with fans. I also do a lot of just general documentation (similar to what Mark Fiore does with Linkin Park). Every band has a different vision of what they want so you just have to find that vision and run with it.
Also sometimes we do on the road "Unplugged" performances, usually acoustic versions of songs while killing a long drive.
> Q: You see a lot of things that go on backstage with bands and you get a different insight into the band than most fans do. What is that like?
It's definitely a different world sometimes.
Luckily I haven't had too many bad experiences and usually what you see on stage and in interviews is what the band is really like. When it comes down to it, they're just normal people like everyone else and I try to go into tours and shows with that frame of mind.
> Q: Back to some more LP...when did you first get into Linkin Park?
I got really into Linkin Park in 2001, a few months after "Hybrid Theory" came out. I stuck with them all the way through until "Meteora" and then kind of had a music style change and stop listening for a while. Once "Minutes to Midnight" came out I came back into them again and I've been listening since.
A lot of people might disagree but "A Thousand Suns" is one of my favorite albums.
> Q: What's your favorite LP song? Why?
I would say it's a tie between "Valentine's Day" and "Burning in the Skies". A lot of people tend to say songs from "Hybrid Theory" or "Meteora", and don't get me wrong, those albums really are amazing front to back, but those two tracks are ones that really stand out to me.
The lyrics are nothing short of amazing and they're songs that I will always listen to.
> Q: You said you've seen LP perform once before - in 2004 on the Meteora World Tour in Vancouver, Canada. How was that show?
I was pretty young, so I don't think I appreciated it as much as I would nowadays, but it was one of the best concerts I've ever seen for sure. Hoobastank were one of the openers and it was right around the time when they were huge, so they were also cool to see.
I remember going wearing a DC hat, just like Mike wore the entire tour. As I said, I was pretty young, ha!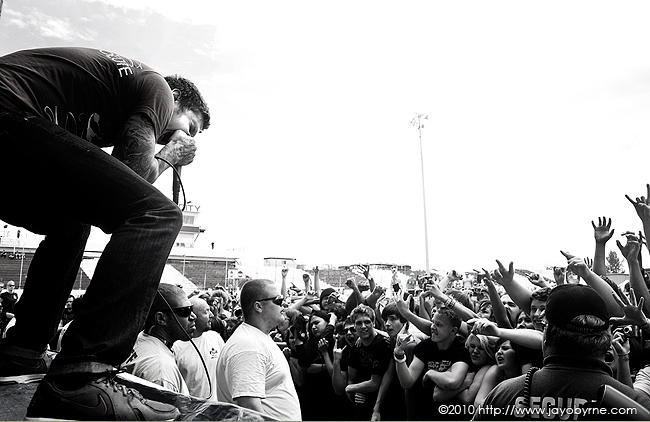 > Q: So if you could pick one song that you're most excited to see LP perform on the North American Tour, which song would it be? Why?
I would have to say "Blackout" or "Wretches And Kings". I saw on LPTV a warm-up video of Chester backstage singing "Wretches And Kings" and it was ridiculous the vocal power he has on the chorus live. With the setlist changes every other night I'm stoked to see a few different sets between the 13 shows I'm covering.
> Q: What city (or venue) are you most excited to visit on the tour?
It's a pretty obvious one, but I would say Madison Square Garden in New York City. To go to a show at MSG, let alone "shoot" a show there is one of the coolest things I will have done in my life I think. It's definitely going to be a surreal show.
Other than that I would say the United Center in Chicago, IL. The place holds something close to 24,000 people for concerts, which is ridiculous to me. Also with the LPU Summit being there as well, I'm sure that will be a city to remember.
> Q: Since I don't see you lurking much on LPLive.net, I take it you're not the biggest Linkin Park fan. Are you what we'd consider a fan of the old albums and not so much a fan of the newer direction of their music?
I actually check LPLive every day, if not every second day. I'm still pretty in "the scene" and check what's going on quite a bit, just silently.
A lot of people seem to hate criticism of the new album(s) but I'm a fan of those just as much as "Hybrid Theory". "A Thousand Suns" is one of my favorite albums this year, which a lot of people won't say.
> Q: So who are some of your top favorite bands right now?
Right now I'm listening to a lot of different stuff. My iPod currently plays everything from New Found Glory and Valencia, to Youmeatsix and Bring Me The Horizon. I also have a secret addiction to Taylor Swift.
> Q: Taylor Swift! My girlfriend (as well as Adam from the LPU) got me secret addicted to her too. For the fans reading this, I should inform them that I've known you for quite a few years now. You introduced me to Iron & Wine back in I believe 2007, with their CD "The Shepherd's Dog" (a damn good one, at that and still one of my favorite CDs to this day). Do you enjoy a lot of indie music?
It's been about 5 years, yeah.
I am a huge indie music fan and it's pretty much all I've listened to for the last few years. I spent my high school years listening to bands like The Postal Service and Stars constantly.
> Q: I always ask you to recommend me a few albums by artists that are not-so-popular in the charts and on iTunes and such. That's how you got me on the Yeah Yeah Yeahs, Iron & Wine and more. Do you have any recent albums that have dropped this past year that you'd recommend to your friends?
I would for sure recommend people check out my good friends Aidan Knight and We Are The City (both from Canada). Also take a listen to an amazing guy from Mesa, AZ called Austin Gibbs.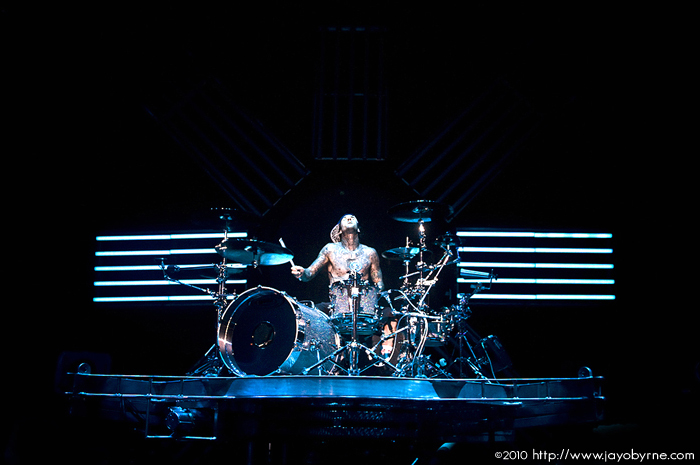 > Q: Any other interesting facts that you'd like people to know about you Jay?
Home Improvement is my favorite television show ever made, and I've seen "The Santa Clause" movie with Tim Allen over 50 times I think.
> Q: Wow! Alright Jay, thanks for the interview man! I'll see you out on the North American Tour as I'll be at the first three shows of the tour....catch ya' then! Want to give us an outro to the interview?
Thanks!
For those wondering, I will be tour blogging / posting photos from the tour every day as I go. You can check those out via jayobyrne.com. I also use Twitter a lot on the road and do a lot of photo print contests and will probably do a few with some live Linkin Park photos, so make sure to follow @jayobyrne!
Come hang out at the shows and if you see me, make sure to say hi!