Linkin Park Live - 05.11.2010
Date:

November 05, 2010

Tour:
European Tour
Location:

Newcastle, England

Show #:
12 of 15
Venue:

Metro Radio Arena

Other Bands:
Does It Offend You, Yeah?
Venue Type:

Arena

Venue Website:
http://www.metroradioarena.co.uk/
Setlist:
Notes:
01. The Requiem
02. Wretches And Kings
Speech Scratch Intro
03. Papercut
04. Given Up
Ext. Outro w/ Extra Note
05. New Divide
Synth Intro
06. Faint
Ext. Outro
07. Empty Spaces
08. When They Come For Me
09. No More Sorrow
Long Intro
10. Jornada Del Muerto
11. Waiting For The End
12. Wisdom, Justice, And Love
13. Iridescent
14. Numb
Short Keyboard Transition Outro
15. The Radiance
w/ Keyboard + Catalyst Vox; Ext. Piano Outro
16. Breaking The Habit
A Cappella Outro
17. Shadow Of The Day
18. Crawling
19. One Step Closer
Ext. Outro
20. Fallout
21. The Catalyst
22. The Messenger
Ext. Outro
23. In The End
24. What I've Done
Album Transition Intro
25. Bleed It Out
Ext. Jam Intro; Ext. Bridge w/ Ohh Ohh Singalong; Ext. Outro
Show Notes:
- Mike extended the end of 'The Radiance' for the first time by letting the crowd clap along to the keyboard part he was playing.
- Chester went into the crowd during the bridge of 'What I've Done'.
- Brad extended the intro of 'Bleed It Out' by jamming on the intro notes for a while. The crowd sang over half of the first verse with Mike, and during the bridge, the band did the "ohh ohh" singalong for the first time since Projekt Revolution 2008. It was the only show of the tour that did not feature either 'Burning In The Skies' or 'A Place For My Head' over the bridge of the song.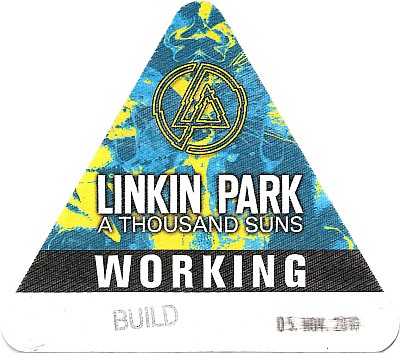 Source 0: Audio - SBD (LP LIVE)
Time:

97:24 mins
Format:

mp3 / 320 kbit/s