Linkin Park Live - 13.08.2009
Date:

August 13, 2009

Tour:
Summer Tour
Location:

Taipei, Taiwan

Event / Festival:
2009 Summer Rock Summit
Venue:

Taipei Country Stadium

Show #:
14 of 17
Other Bands:
Hoobastank, The All-American Rejects
Setlist:
Notes:
01. Session
MTM Tour Version
02. Given Up
Short Outro
03. From The Inside
Ext. Intro
04. Somewhere I Belong
05. No More Sorrow
Ext. Intro
06. Lying From You
07. Points Of Authority
Intro #2 w/ Dedicated (1); Outro w/ APFMH (1)
08. What I've Done
AMBO Intro
09. Leave Out All The Rest
10. Numb
Keyboard Transition Outro
11. Breaking The Habit
Late 2007 Buildup Intro; A Cappella Outro
12. Shadow Of The Day
13. Hands Held High
Verse 1 A Cappella
14. Crawling
KRWLNG Intro w/ Hands Held High (2)
15. In The End
16. Bleed It Out
Drum Solo Intro (2); 2009 Ending
17. New Divide
Synth Intro w/ Keyboard
18. Faint
Ext. Outro
19. One Step Closer
Ext. Outro
Show Notes:
- Mike rapped verse 1 of 'Dedicated' over the intro of 'Points Of Authority' and verse 1 of 'A Place For My Head' over the outro. Before 'Dedicated' (which was the first time he has ever rapped part of it live), he said, "Check this out, this is for everybody who visited the web."
- After 'Shadow Of The Day', Mike rapped the first verse of 'Hands Held High' a cappella and rapped the second verse over the Reanimated intro to 'Crawling'.
Other Notes:
- This show was a make-up show for the canceled show in Taipei in 2008.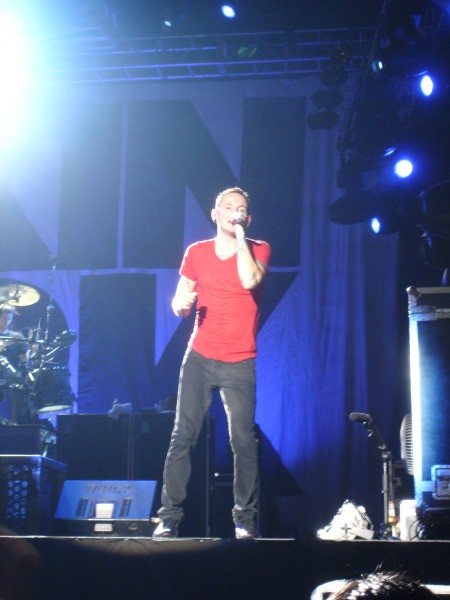 Source 0: Audio - SBD (LP LIVE)
Time:

78:59 mins
Format:

mp3 / 320 kbit/s