Linkin Park Live - 28.07.2009
Date:

July 28, 2009

Tour:
Summer Tour
Location:

Zürich, Zürich

Show #:
6 of 17
Venue:

Hallenstadion

Other Bands:
Funeral For A Friend
Setlist:
Notes:
01. Session
MTM Tour Version
02. Given Up
Short Outro
03. From The Inside
Ext. Intro
04. Somewhere I Belong
05. No More Sorrow
Long Intro
06. Lying From You
07. Points Of Authority
Intro #2 w/ Petrified (2); Outro w/ APFMH (1)
08. What I've Done
AMBO Intro
09. Leave Out All The Rest
10. Numb
Keyboard Transition Outro
11. Breaking The Habit
Late 2007 Buildup Intro; A Cappella Outro
12. Shadow Of The Day
13. Hands Held High
Verse 1 A Cappella
14. Crawling
KRWLNG Intro w/ Hands Held High (2)
15. In The End
16. Bleed It Out
Drum Solo Intro (2); 2009 Ending
17. New Divide
Synth Intro
18. Faint
Ext. Outro
19. One Step Closer
Ext. Outro
Show Notes:
- Mike rapped verse 2 of 'Petrified' over the intro of 'Points Of Authority' and verse 1 of 'A Place For My Head' over the outro.
- After 'Shadow Of The Day', Mike rapped the first verse of 'Hands Held High' a cappella and rapped the second verse over the Reanimated intro to 'Crawling'.
- The breakdown part of 'New Divide' was messed up - the guitar sample cut out halfway through but came back near the end.
- Mike messed up the lyrics to the first verse of 'Faint' and instead rapped the beginning of the second verse.
Other Notes:
- The venue had sound restrictions in place, therefore making the sound of the show a lot quieter than usual.
- This show can be considered as a make-up show for the canceled show in Interlaken in 2008.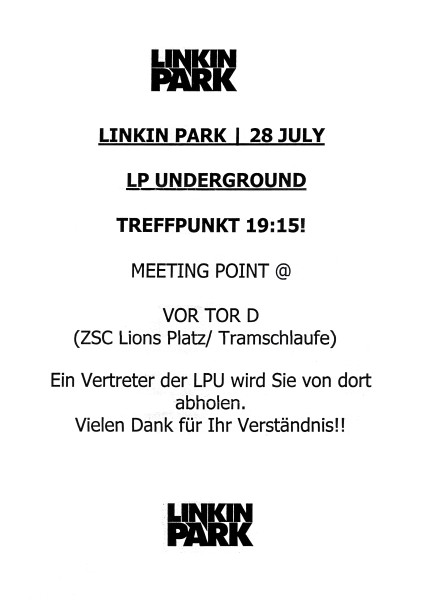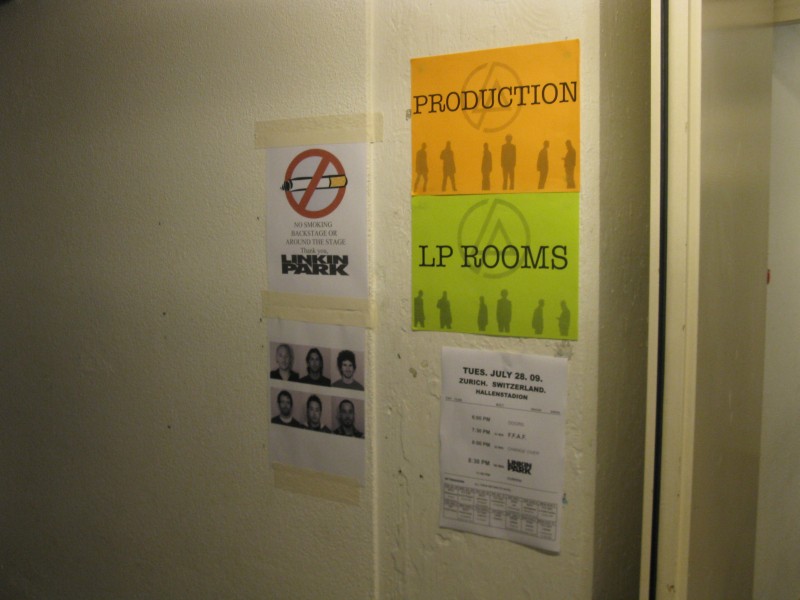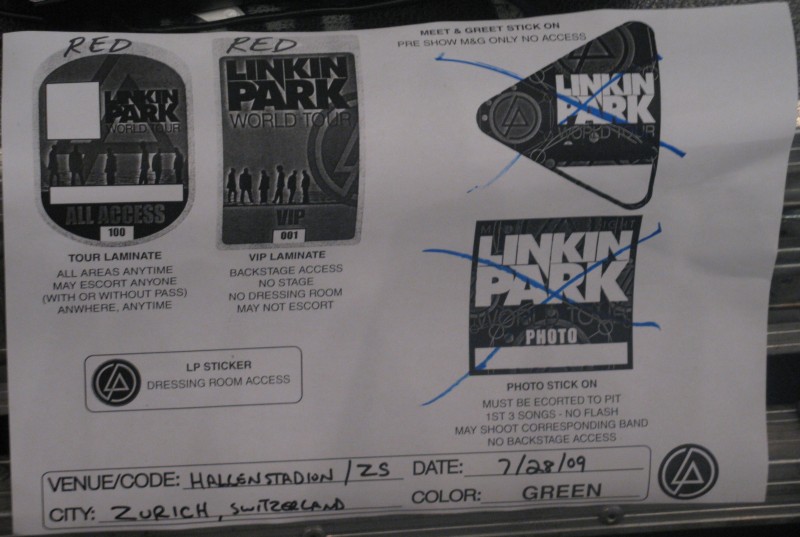 Source 0: Audio - SBD (LP LIVE)
Time:

80:10 mins
Format:

mp3 / 320 kbit/s
Source 1: Audio - AUD (Church Audio STC-11 (omni) > CA-ST9100 > Edirol R-09 (24bit/48kHz))
Taper:

Hahninator
Time:

81 mins
Format:

lossless
Comments:

None.
Source 2: Video - AUD (Digicam: Panasonic DMC-TZ7 (720p))
Location:

Block V1, Row 36
Taper:

Protyreus (Joerg)
Time:

40 mins
Format:

.mp4 / 8.2 GB
Comments: Incomplete. Only 'Given Up', 'From The Inside', 'Somewhere I Belong', 'Points Of Authority', 'What I've Done', 'Numb', 'In The End', 'New Divide' and 'One Step Closer'. You can watch them here.