Linkin Park Live - 24.06.2008
Date:

June 24, 2008

Tour:
European Tour
Location:
Show #:
13 of 14
Venue:

SAP Arena

Other Bands:
Enter Shikari
Setlist:
Notes:
01. No More Sorrow
Long Intro
02. Lying From You
2008 Intro
03. Somewhere I Belong
04. Wake 2.0
05. Given Up
Short Outro
06. Papercut
Long Intro
07. Points Of Authority
Intro #1 w/ Petrified (1); Outro
08. In Pieces
09. Numb
Keyboard Transition Outro
10. Pushing Me Away
11. Breaking The Habit
A Cappella Outro
12. Shadow Of The Day
13. Crawling
KRLWNG Intro
14. Leave Out All The Rest
15. What I've Done
Album Transition Intro
16. In The End
17. Bleed It Out
Mardi Gras Mix
18. Cure For The Itch
MTM Tour Version
19. A Place For My Head
Guitar Solo Intro
20. Faint
Ext. Outro
21. One Step Closer
Ext. Outro
Show Notes:
- Mike rapped verse 1 of 'Petrified' over the intro of 'Points Of Authority'.
- Before 'Leave Out All The Rest', Chester started complimenting Mike, which led Mike to say that Chester had a nice butt.
Other Notes:
- This show was advertised through an Music For Relief "Meet The Band" eBay auction as being in Istanbul, Turkey, at the Kuruçesme Arena, but Linkin Park never put the announcement on their site, and soon after announced a show on the 24th in Mannheim, Germany.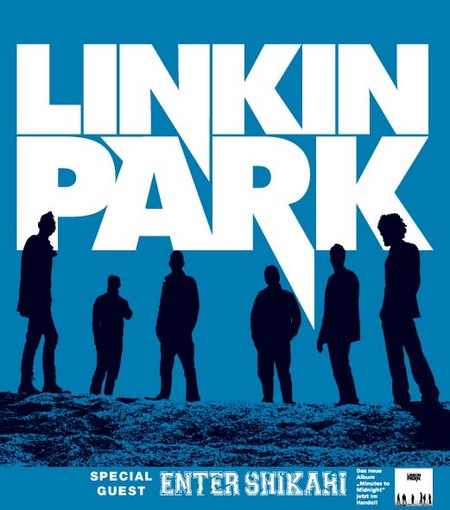 Source 1: Video - AUD (Panasonic SDR-S150) (Left Angle)
Taper: Dennis
Time: ? mins
Format: DVD M
Comments: Shot from the left side almost behind the stage. 'One Step Closer' is missing. Uncirculated.