Linkin Park Live - 06.03.2008
Date:

March 06, 2008

Tour:
North American Arena Tour
Location:

Las Vegas, Nevada

Show #:
16 of 19
Venue:
Other Bands:
Coheed And Cambria, Chiodos
Setlist:
Notes:
01. Wake
02. Lying From You
03. Don't Stay
Foreword Intro
04. Somewhere I Belong
Winter 08 Intro
05. Papercut
Long Intro
06. Points Of Authority
Intro #1 w/ It's Goin' Down (1); Outro w/ There They Go (1)
07. In Pieces
08. Numb
Keyboard Transition Outro
09. My December
Piano Version
10. Breaking The Habit
11. Crawling
KRWLNG Intro w/ Vox
12. In The End
13. A Place For My Head
Guitar Solo Intro
14. One Step Closer
Ext. Outro
15. In Between
16. What I've Done
AMBO Intro
17. Bleed It Out
w/ Drum Solo & Chorus Sing-A-Long Bridge; Slow -> Fast Outro
18. Faint
Ext. Outro
Show Notes:
- Instead of using the setlist they used for the previous two shows, the band decided to go with a variation of "Set S". 'Given Up' and 'Valentine's Day' were not played, and 'Shadow Of The Day' actually was dropped from the setlist for the first time since it was initially added on July 25, 2007.
- 'Points Of Authority' reappeared in the setlist. Mike rapped verse one of 'It's Goin' Down' over the intro and verse one of 'There They Go' over the outro.
- Chester dedicated 'My December' to a friend of the band's named 'Arnando'. He died for an unknown reason, so Chester paid his respects with the song.
- 'Breaking The Habit' had no intro or outro at this show.
- Mr. Hahn was back with the Leroy Jenkins sample at this show, using it this time after the 'A Place For My Head' intro.
- This show and the night after were the smallest shows venue-wise of the North American Winter 08 Tour.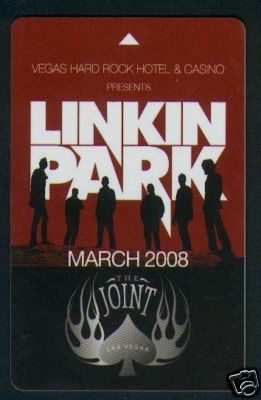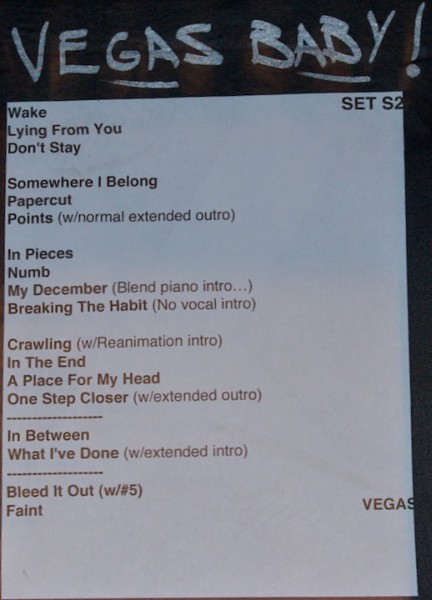 Source 0: Audio - SBD (LP LIVE)
Time:

79:44 mins
Format:

mp3 / 320 kbit/s