Linkin Park Live - 18.01.2008
Date:

January 18, 2008

Tour:
Winter European Tour
Location:

Basel, Basel-Stadt

Show #:
3 of 11
Venue:

St. Jakobshalle
Setlist:
Notes:
01. No More Sorrow
Long Intro
02. Don't Stay
Foreword Intro
03. Somewhere I Belong
Winter 08 Intro
04. Wake
05. Given Up
Short Outro
06. Lying From You
07. Valentine's Day
08. Points Of Authority
Intro #1 w/ In Stereo (1); Outro Jam
09. Leave Out All The Rest
10. Numb
Keyboard Transition Outro
11. The Little Things Give You Away
Keyboard Intro
12. Shadow Of The Day
13. Breaking The Habit
Piano Intro w/ Improv.
14. Crawling
KRWLNG Intro w/ Strings
15. In The End
16. Bleed It Out
w/ Drum Solo Bridge
17. What I've Done
AMBO Intro
18. Pushing Me Away
Piano Version
19. One Step Closer
Gunshot Intro #1; Ext. Outro
20. Faint
Ext. Outro
Show Notes:
- The kabouki got stuck on 'No More Sorrow', so the stage crew had to run out from backstage and literally rip it down after the song had already begun.
- Mike rapped verse one of 'In Stereo' over the intro of 'Points Of Authority'.
- Brad started to play the beginning of 'Valentine's Day' in the wrong key, which prompted Chester to follow along and sing higher than usual to match the guitar part. Then, when the rest of the instruments started, Brad & Chester both changed back to the normal key to finish the song.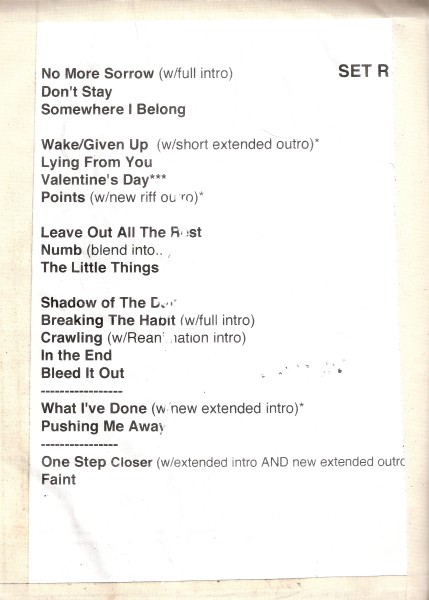 Source 0: Audio - SBD (LP LIVE)
Time:

90:51 mins
Format:

mp3 / 320 kbit/s