Setlist:
Notes:
01. One Step Closer
Ext. Intro
02. Lying From You
03. Somewhere I Belong
Ext. Intro
04. No More Sorrow
Ext. Intro
05. Papercut
06. Points Of Authority
Intro w/ In Stereo verse 1
07. Wake
08. Given Up
09. Don't Stay
10. From The Inside
11. Leave Out All The Rest
12. Numb
13. Pushing Me Away
Piano Version
14. Breaking The Habit
Ext. Intro
15. Crawling
16. In The End
17. Bleed It Out
w/ drum solo; Slow -> Fast Outro
18. The Little Things Give You Away
Piano Intro
19. What I've Done
20. Faint
Ext. Outro
Show Notes:
- Chester broke his wrist on the beginning of 'Papercut' by jumping off the top of the stage, catching his foot, and falling. He continued to sing (with the crowd helping him on some parts) from 'Papercut' to 'Leave Out All The Rest', then only left to get checked on and get ice on it before 'Numb'. He came out and finished the set - only after the show did he go get a cast put on it. He didn't want to quit the show early or cancel any other shows or Meet & Greets. Thanks Chester!
- Mike rapped verse one of 'In Stereo' over the intro of 'Points Of Authority'.
- 'Shadow Of The Day' was not played, because Chester's wrist was broken.
- After 'From The Inside', Mike took time to talk about how hard it is always being on the road and away from your family all the time, and then had the crowd sing Happy Birthday to Ken "Pooch" Van Druten, the band's FOH engineer for the Minutes To Midnight Touring Cycle. Videos of this can be seen here, here, and here.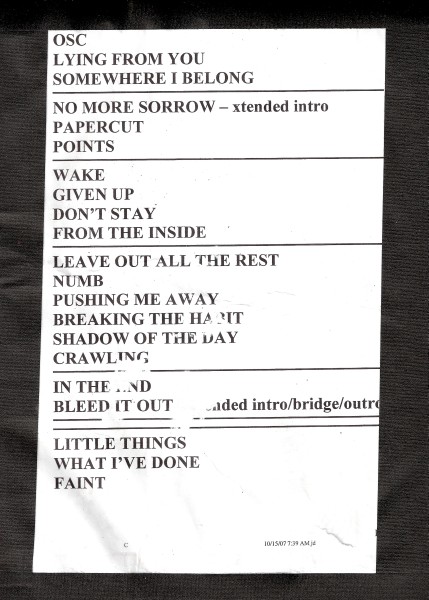 Sources:
Source 0: Audio - SBD (LP LIVE)
Time:

87:31 mins
Format:

mp3 / 320 kbit/s