Linkin Park Live - 03.05.2007
Date:

May 03, 2007

Show #:
4 of 10
Location:

London, England

Venue:

Astoria
Setlist:
Notes:
01. One Step Closer
Gunshot Intro #1
02. Lying From You
03. Somewhere I Belong
Long Intro
04. No More Sorrow
05. Given Up
06. Papercut
Long Intro
07. Don't Stay
Foreword Intro
08. From The Inside
Ext. Intro
09. Numb
Keyboard Transition Outro
10. Pushing Me Away
Piano Version
11. Breaking The Habit
Piano Intro
12. What I've Done
Album Transition Intro
13. Crawling
14. In The End
15. Faint
Ext. Outro
Show Notes:
- Second 'Minutes To Midnight' Promo Show.
- The band announced during the show that they'd be returning in the summer to headline the Download Festival.
Other Notes:
- DVD liberated by nkramar in August due to it being sold in stores in Manchester and by the Japanese group AIRS. The taper thinks he didn't make enough money from selling the master to the Japanese bootlegger.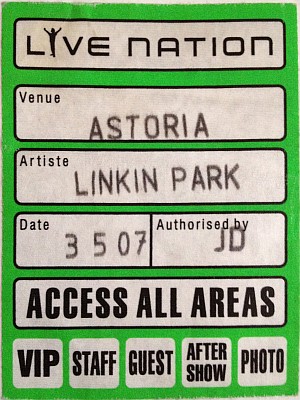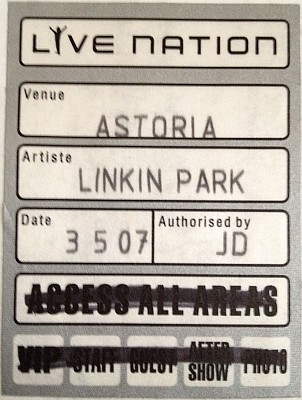 Source 1: Video - AUD (MiniDV: Unknown Panasonic)
Taper:

Master8uk (Chris Adams)
Time:

65 mins
Format:

DVD M / 2.25 GB
Comments:

Left shot.