Linkin Park Live - 17.03.2003
Date:

March 17, 2003

Tour:
LP Underground Tour
Location:

Detroit, Michigan

Event / Festival:
MTV 2$ Bill
Venue:

State Theatre

Show #:
11 of 16
Setlist:
Notes:
01. Session
2003 Version
02. Don't Stay
Foreword Intro
03. Somewhere I Belong
04. Lying From You
05. Papercut
06. Points Of Authority
07. Runaway
08. Faint
09. From The Inside
10. Hit The Floor
11. With You
Reanimation-style
12. Crawling
Short KRWLNG Intro
13. In The End
14. Easier To Run
15. A Place For My Head
Ext. Bridge
16. One Step Closer
Reanimated Bridge
Show Notes:
The setlist for the MTV broadcast is:
01. Session
02. Don't Stay
03. Somewhere I Belong
04. Papercut
05. Points Of Authority
06. Crawling
07. In The End
08. Faint
09. From The Inside
10. A Place For My Head
11. One Step Closer

'Crawling' and 'In 'The End' were moved up on the broadcast ahead of 'Faint' and 'From The Inside', although they were not played that way.
Other Notes:
- This show was filmed for the MTV 2$ Bill series.
- Sometimes mislabeled as 25-03-2003. That was the date of the first broadcast.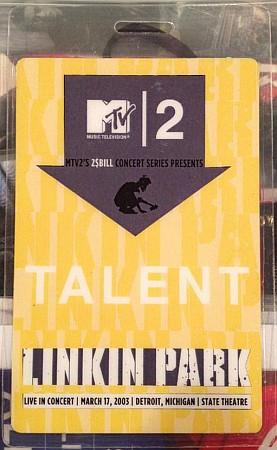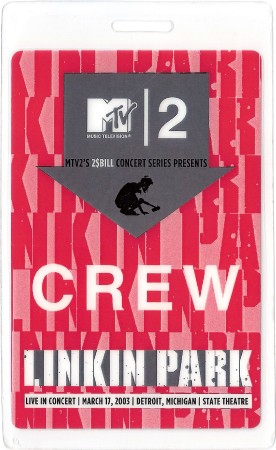 Source 1a: Video - PROSHOT (MTV Japan)
Transfer:
Taper:

Unknown
Time:

41 mins
Format:

DVD M / 1.90 GB
Sample: (Don't Stay - 15 sec) - Download (right click and save)
Comments:

Has japanese subtitles.
Source 1b: Video - PROSHOT (MTV2)
Transfer:

TV > Standalone? > DVD
Taper:

Unknown
Time:

34 mins
Format:

DVD M / 1.73 GB