Linkin Park Live - 11.03.2003
Date:

March 11, 2003

Tour:
LP Underground Tour
Location:

Worcester, Massachusetts

Show #:
7 of 16
Venue:

Worcester Palladium
Setlist:
Notes:
01. Session
2003 Version
02. Don't Stay
Foreword Intro
03. Somewhere I Belong
04. Lying From You
05. Papercut
06. Points Of Authority
07. Runaway
08. Faint
09. From The Inside
10. Hit The Floor
11. With You
Reanimation-style
12. Crawling
Short KRWLNG Intro
13. In The End
14. Easier To Run
15. A Place For My Head
Ext. Bridge
16. One Step Closer
Reanimated Bridge
Show Notes:
- Christian, the lead singer of Blindside, came out on 'One Step Closer'.

Other Notes:
- 'Easier To Run' from this show was released on the LPU 4.0 Enhanced Content as video on the CD and also on the Numb CD single as audio.
Debuts:
- This was the first USA performance of the Meteora songs.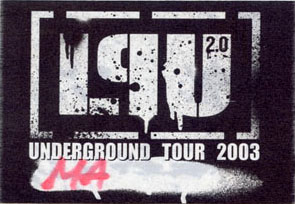 Source 1: Audio - AUD (DPA 4062's > Sharp MD-DR7)
Taper:

ToolDVN
Time:

65 mins
Format:

lossless
Sample: (Easier To Run - 30 sec) - Download (right click and save)