If you've explored our live guide or been in the LP community online for a few years, you've probably heard of how from 2001-2004 it was very common for the band to have guests on 'One Step Closer'. Band members from Cypress Hill, Story Of The Year, POD, Adema and more....Aaron Lewis from Staind, Jonathan Davis from Korn and many others have joined Linkin Park over the years for OSC. This means you've probably heard of the time Eminem and D12 joined them on the song in Detroit in 2002.
Yeah, except
that didn't happen.
Thanks to a recent discovery by an LPLive member in the forum shoutbox, we now can
read a review of the show and see pictures of it.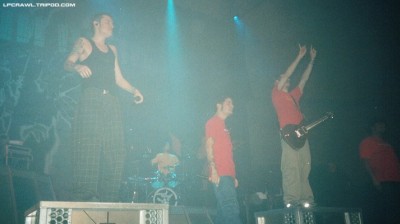 Full size image
In the above picture you'll see Mark from Adema and Sen Dog from Cypress Hill along with Chester, Rob, and Brad on stage for 'One Step Closer'...and there's no D12 or Eminem! Earlier today the LPLive staff researched where in fact this "rumor" came from and all we could find is that
"Forfeit The Game", an old LP fansite
says this:
"Over the years, the band have collaborated on the live version of One Step Closer with many different artists, some of these include:
- Dilated Peoples
- Marky Chavez (of Adema)
- Wes Scantlin (of Puddle of Mudd)
- Sonny Sandovel (of P.O.D.)
- Hoobastank
- Story of the Year
- Jonathan Davis (of Korn)
- Eminem & D-12"
But that doesn't list the exact show. Upon further investigation we couldn't really figure out how this rumor got started so we wanted to set it straight that Eminem and D12 at least didn't come out on 'One Step Closer' at LP's fifth show of Projekt Revolution 2002 in Detroit (show page
here
). If they did really come out for OSC at a show, we don't know when! Maybe a band member can help us out at a future M&G....
So thanks to you guys, we're a little bit more accurate now with the live guide - thanks!