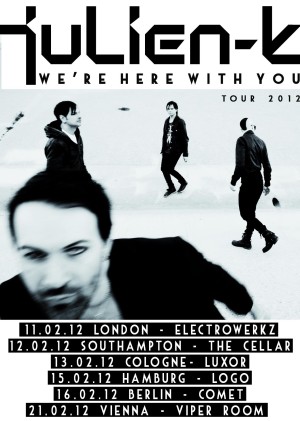 The Julien-K European Tour promoting their new album "We're Here With You" kicks off in London tonight. London will be their first live show with the new drummer Frank Zummo from Street Drums Corps. Most of you remember SDC from Projekt Revolution 2008, where they opened the Main Stage and also joined LP for a few songs during the show. The last Julien-K show was at the Roxy in LA on Jan 21st, when Chester joined them for two songs. It was also Elias's last show with the band for the foreseeable future. The band has played several
European tours
before, playing London a few times.
If you buy a presale ticket,
Julien-K Germany
has a contest going that you get a free tour poster you can pick up at the merch booth at any shop if you submit a picture of yourself with a ticket. More details
here
.
Also we will try to keep you updated with setlists on the tour.
LPL staff member [AndOne] will be going to the Cologne, Hamburg and Berlin shows, hopefully meeting some LPLive and Julien-K friends again, just stop by.
If you have ticket stubs for these shows, take a photo or preferably scan them and please send them to us! And have fun!!