It's pre-show post season! Mike Shinoda is gearing up to get back on the road for a week-long promo tour in California and New York City, and it's kicking off tomorrow, June 14, at Amoeba Records in Hollywood, California!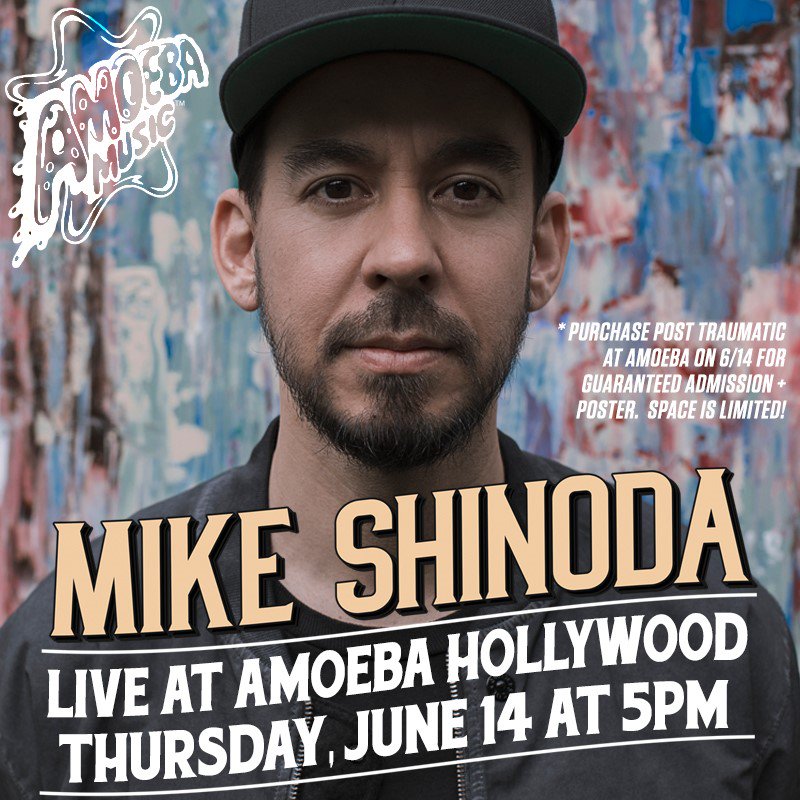 This'll be a pretty small show, and we all know the small shows often have the most energy. In addition to a performance, the first 100 people who bought a CD from the store (which essentially serves as a ticket to the event) will be treated to a meet & greet with Mike as well as a signed poster. All attendees will be watching the performance, though, and it's bound to be awesome!
We're not quite sure what to expect from this show - we don't even know if it'll be a full set or not. Our guess is that it'll probably be a fairly short set, anywhere from 20 to 40 minutes. As far as what he'll play, that's hard to say, as well - we imagine he'll mostly play songs he's already been playing, including singles 'Crossing A Line' and 'Over Again' (which he mashes up with 'Papercut' when played live). The piano version of 'In The End' may be a solid bet as well. Fort Minor's 'Welcome' has served as the intro to both of the shows he's already played (with a cool new extended intro at his Identity LA set), so it's probably safe to guess he'll be playing that as the set intro as well. Anything else is a guess - will he play new songs from Post Traumatic (singles 'Running From My Shadow' and 'Ghosts' have not been played yet, as well as 'Nothing Makes Sense Anymore')? Will he play Linkin Park songs like 'Sorry For Now' and 'When They Come For Me' that he rocked at his earlier shows? Mike's been working on the live set the last few weeks which means changes are definitely incoming, but what those changes are are yet to be seen. Let us know what you think he'll be playing!
Watch Mike perform 'Crossing A Line' for the first time at his set at the KROQ Weenie Roast last month. What new (or old) songs do you think he'll add into his set?
As mentioned before, Mike's short promo tour in California and New York City will last just about a week. The day after this show, on June 15, Mike will be performing at the KROQ HD Radio Sound Space, which will be livestreamed! After a short travel break, he'll be in New York doing some more promotional stuff, which includes an in-store signing on June 18 in Long Island, a TV performance on The Tonight Show With Jimmy Fallon, and what is currently slated to be Mike's first solo headlining show at the Gramercy Theater in New York on June 20. Perhaps there's still more events to be announced, too! If you're coming to any of the NYC events, keep an eye out on Twitter - me and Mark (Hahninator) will both be around the city for them (me on June 18 and June 20, Mark on the 20th). Perhaps we can do a meetup at some point!
After this promo tour ends, we have a bit of a wait again for more Mike shows. Mike has one more appearance in June, on the 30th in Camden, New Jersey for Radio 104.5's 11th Birthday Celebration (Mark, Dmitry, and I will see you there, too, as well as plenty of other LPLive members!) before taking most of July off (understandably). Mike will play one warmup show on July 28 at the LoveLoud festival in Salt Lake City, Utah before embarking on an Asian Tour hitting Singapore, Japan, Thailand, and more and a European Tour which has stops currently announced in England, France, Germany, Russia, and Italy, with more likely on the way.
Be sure to follow us on Twitter and Facebook for the latest updates, and join the LPLive Discord for discussion with fans around the world!
POST SHOW EDIT:
Mike delivered a memorable FOURTEEN SONG performance tonight at Amoeba Records, where the usual set length is about six or so songs from big artists. The intimate performance saw the live debut of three new songs off of Post Traumatic - Ghosts, Make It Up As I Go (with K. Flay making a guest appearance), and Running From My Shadow. It appears Running From My Shadow might be the new set closer for the shows, which is A-ok by us!
Fans camped out overnight for the performance, getting in line yesterday. The first 100 fans got a Meet & Greet and those wristbands were all taken up by 2:45am. The event held several hundred, easily, so you could come up, buy the album and see the performance as late as about 4:00pm - an hour before Mike took the stage.
Joe Hahn was in attendance at the show, but did not guest on any songs. To give an extra treat for the fans, Mike had an exclusive merch vending machine set up outside of the store for fans to purchase an event-exclusive shirt, a sticker pack, and a hat. In addition, several "Golden Tickets" (Willie Wonka-style) were in the vending machine. Lucky winners were able to receive the Golden Ticket, email "gold@mikeshinoda.com" and receive a signed copy of Post Traumatic!
The Meet & Greet for the event was held after the show, with Mike taking photos with fans and then handing over a signed poster. 
This performance will give us a taste of the brand new headlining setlist, which will debut when Mike visits New York City next week for an intimate Album Release Show at the Gramercy Theater. It will be his first fully solo headlining show on his own (not a festival, etc) and we should see a solid 18~ songs in the set.
SETLIST:
Welcome
Place To Start
Watching As I Fall
Castle Of Glass
Ghosts (Live Debut)
Waiting For The End/Where'd You Go (Mashup)
Crossing A Line
In The End (Piano Version)
About You (Vocoder Intro; Transition Ending)
Over Again/Papercut (Mashup)
Make It Up As I Go (Live Debut; w/ K.Flay)
Good Goodbye/Bleed It Out (Mashup)
Remember The Name (Shortened)
Running From My Shadow (Live Debut; Mike in crowd)
Check out the rest of Mike's touring schedule here.