Linkin Park has debuted their brand new single "Heavy" (feat. Kiiara)!
You may have all been glued to your screens waiting for the next clip, but looks like we've gotten what we've been waiting for!
 
According to this listing of availability of radio singles, a new Linkin Park song called 'Heavy' will be available for airplay by February 21, 2017 - two weeks from today! There's no telling if we will hear the single for the first time on February 21 or before, but now we have a timeframe.
 
EDIT 2/8: According to this Facebook post by Warner Music Thailand, 'Heavy' will be released on February 17.
 
If you check our our comprehensive Linkinpedia page for the band's seventh album, you can see that 'Heavy' is a known working title from the album sessions. It can be seen on the band's working title board as early as April 2016. This original picture from Joe's Instagram on April 28, 2016 shows a number of working titles, including 'Heavy'.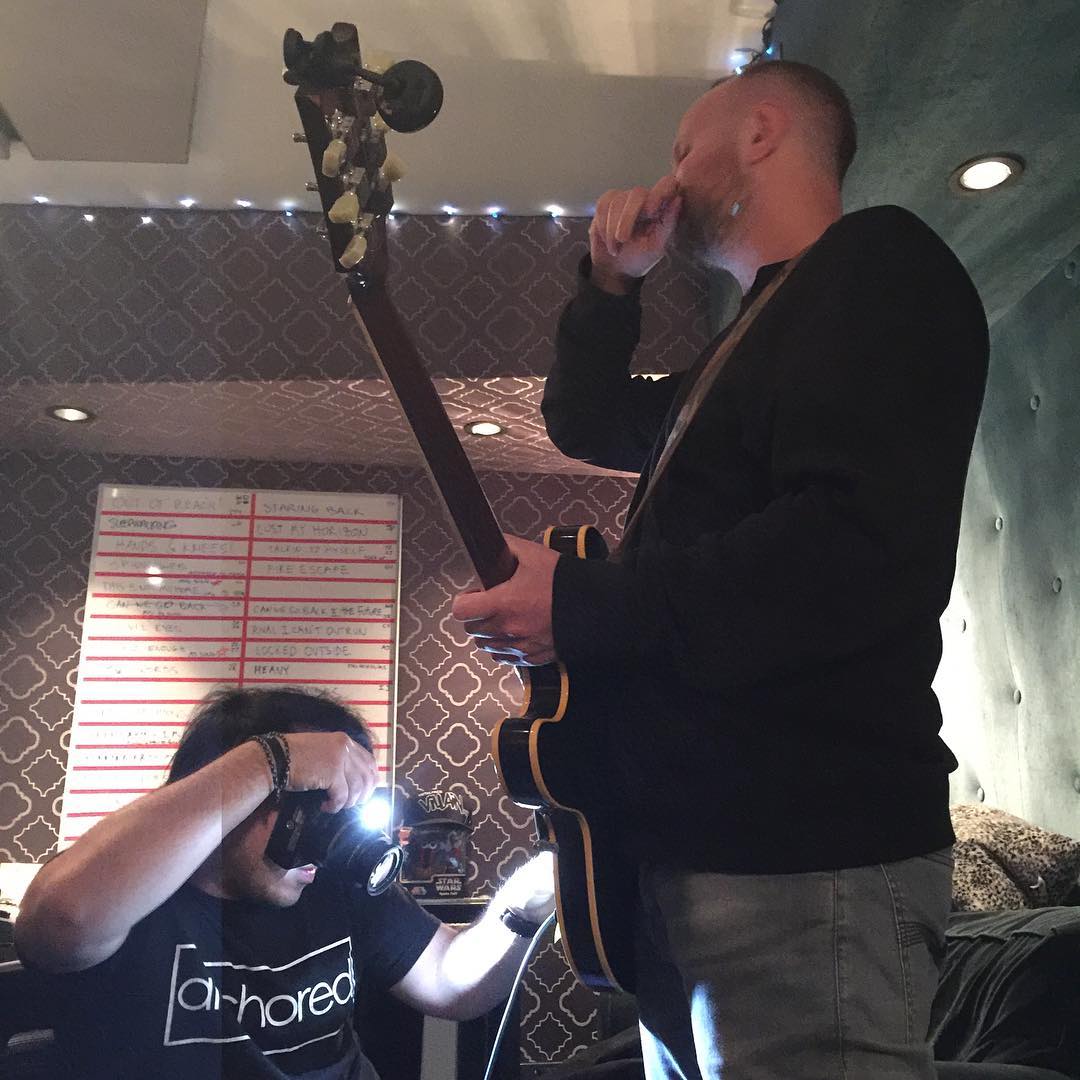 Linkin Park has been pretty busy lately prepping for their new single. Rumor is that both yesterday and today are scheduled for filming a music video for a song reportedly featuring pop artist Kiiara. We can't tell if 'Heavy' features Kiiara yet, but we'll soon find out. The band has slowly but surely been releasing teasers for their new music via their website, with two of the supposed eight being released so far. The URLs for the videos seem to slowly be spelling something out - so far we have 'On,' so it looks like that won't be spelling out the single title. The band was at their rehearsal space yesterday, presumably getting ready to perform the new song for upcoming promotional performances within the next month.
 
If you're getting antsy for the first taste of the single, it seems we might have already gotten one. If you listen closely around the :40 second mark of the first promotional clip ("Piano") the band posted on their website, you can hear Mike sing "Holding on, why is everything so heavy?" above the piano chords. Is that clip from "Heavy," or is it something else?
2/13 EDIT: Linkin Park has just released lyrics for "Heavy" on Genius.com.
 
I don't like my mind right now
Stacking up problems that are so unnecessary
Wish that I could slow things down
I wanna let go but there's comfort in the panic
And I drive myself crazy
Thinking everything's about me
Yeah I drive myself crazy
Cause I can't escape the gravity
 
I'm holding on
Why is everything so heavy
Holding on
So much more than I can carry
I keep dragging around what's bringing me down
If I just let go, I'd be set free
Holding on
Why is everything so heavy
 
You say that I'm paranoid
But I'm pretty sure the world is out to get me
It's not like I make the choice
To let my mind stay so fucking messy
I know I'm not the center of the universe
But you keep spinning round me just the same
I know I'm not the center of the universe
But you keep spinning round me just the same
 
I'm holding on
Why is everything so heavy
Holding on
So much more than I can carry
I keep dragging around what's bringing me down
If I just let go, I'd be set free
Holding on
Why is everything so heavy
 
I know I'm not the center of the universe
But you keep spinning round me just the same
I know I'm not the center of the universe
But you keep spinning round me just the same
And I drive myself crazy
Thinking everything's about me
 
I'm holding on
Why is everything so heavy
Holding on
So much more than I can carry
I keep dragging around what's bringing me down
If I just let go, I'd be set free
Holding on
Why is everything so heavy